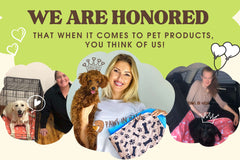 Become Better Pet Parents Together!
We believe all animals should be given unconditional love and care during their lifetimes. 
We are dedicated to sharing the idea of holistic pet-friendly products to make pet parenting simple!
Catering to your needs with care, honoring your pets with love!
Go to Pet Parents' Favorites
Heartfelt Messages From Pet Parents
----
Great Prices & High-quality Pee Pad!

Wide variety of products with significantly lower prices than other pet sites. Have ordered before and will order again!

Ellen, Ukraine
Love this Pee Pad!

I just learn to be Pet Parents with my daughter! The staff is so patient when I ask them for the product details. ABSOLUTELY RECOMMEND!

Ruth, USA
The Best Pee Pad Ever!

First-time customer and I was very impressed by Fast Response & Great Products!

Mary, Canada
Fast Shipping!

I receive the products within 9 days! They have good prices and I haven't had any problems with everything I have ever ordered.

Liz, Germany
Very Fast Delivery!

Fast, efficient and best value found. Item purchased was 1/2 the price of what I have been paying for it at the local store.

Sue, Australia
Pets are at the heart of everything we do here.
Here at Paws in Oasis, we love your pets the same way you do!
TO US, PETS ARE FAMILY. AND FAMILY DESERVES NOTHING BUT THE BEST!